Are you receiving My Paper Pumpkin? If not, this month it the perfect time to join! Use the promotion code PUMPKINDEAL to join before August 31st and pay only $10 a month for the first two months, plus tax where applicable. Shipping is included! Go to
www.mypaperpumpkin.com
to sign up today! No matter when you sign up, your first month you will receive this Welcome Kit: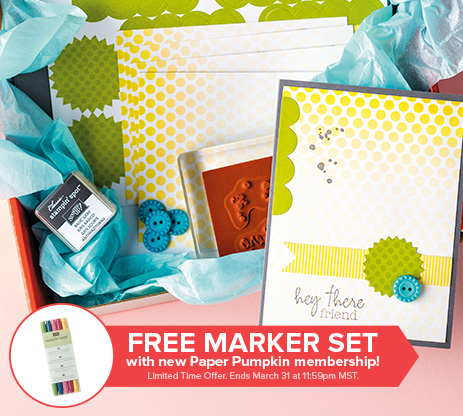 Then the following month you will receive the kit of that month. This month's kit is called Pedal Praise and I just love it! Here is one alteration that I did with mine:
Isn't that bicycle adorable?! They are very popular in the crafting world right now. I added some punches, cardstock and bling to mine but they are cute just the way they arrive for you to assemble too! At this great introductory price, they also make great gifts for the beginning crafters in your life. Do you have children, grandchildren, neighbor kids, etc that like to craft with you? Then this would be a great birthday present for them! Don't forget to sign up by August 31st with the promo code PUMPKINDEAL to take advantage of this special offer!